How We Keep the Soul of United Community Centers Alive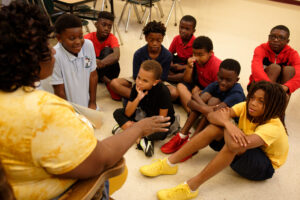 In 1937, local civil rights activist Minnie Rogers, legendary educator Dr. Mary McCleod Bethune, and former First Lady Eleanor Roosevelt established the 13th Avenue Community Center. Their vision was to provide an educational family resource center, so at-risk youth could realize their fullest potential.
In time, this place became a haven for cultural, recreational, social, and educational activities. It was and is a place that prioritizes the youth in central Bradenton's low-income neighborhoods. The organization has helped thousands of children achieve their highest potentials and become successful, community focused men and women.
In 2010, the organization changed its name to United Community Centers, Inc. and relocated to a brand new facility on 24th Street East. To this day, it continues to offer academic enrichment programs, literacy training, mentoring, and character building opportunities.
UCC is a private, not-for-profit agency licensed by the Department of Children and Families. UCC is partially funded through private donors/supporters, corporations, foundations, government/federal grants, and fundraising events. All contributions are tax deductible to the fullest extent of the law. For more information about how to get involved or support UCC, call 941.746.7470.
13th AV Dream Center
Our state of the art 13th AV Dream Center facility provides participants with a clean, safe learning environment. The Dream Center has everything: classrooms with updated technological equipment, a modern gym, athletic fields, game and conference rooms. At the Dream Center, students gain the confidence and independence they need to achieve their dreams. With literacy as the cornerstone for all our programming, participants are supported by highly-trained professionals who help ensure their success.
Who We Serve
1,500 students per year, ages 4-18
93% of UCC participants come from single-parent households
Average annual income: $18,500 (family of five)
Our service area represents the region with the highest # of referrals to the Dept. of Juvenile Justice in Manatee County
How We Serve
Spending $3,000 per year/per child, we encourage, motivate and inspire the children who come through our doors. We build dreams, change lives and strengthen families by:
Developing goal directed behavior
Providing academic enrichment & mentoring programs
Increasing self worth and self esteem
Increasing sense of family, peer, and community support